Cinderella 99
$400.00 – $2,000.00
May Relieve 
Chronic Pain, Depression, Eye Pressure, Fatigue, Inflammation, Stress
Effects
Energizing, Euphoria, Happy, Motivation, Uplifting
Aromas
Citrus, Fruity, Pineapple, Sweet
Add to Wishlist
Compare
Description
DESCRIPTION
Sativa Dominant Hybrid 
– 
85% Sativa / 15% Indica
THC: 

16% – 22%
This medical marijuana strain which is often called as C99 was originally developed by 'Brothers Grimm'. This is one among the hybrid strains which was created by crossing Jack Herer with Shiva Skunk. This is a sativa-dominant strain and its indica/sativa ratio are found to be 15:85. The THC level of this strain is found to be around 22%. This was among the 'Top 10 Strains of 2009' list in the High Times. The plant appears to be light-green colored with orange-colored hairs all over. Numerous crystals can be found in all parts of the dense bud. This strain is famous for its mild citrus/tropical smells. When used, this strain will give off a piney flavor with hints of fruity flavor. Cinderella 99 is found to be good for daytime use with its effects lasting for up to 90 minutes. The users of this strain have found that this strain would help coping with the problems of ache, pains, stress, anxiety, depression and even migraines. This marijuana strain is also helpful in easing out inflammation, increasing hunger and combating nausea. This is also found to be an effective energy booster for the patients having fatigue. Cinderella 99
The users of this strain have found that this strain would help coping with the problems of ache, pains, stress, anxiety, depression and even migraines. This marijuana strain is also helpful in easing out inflammation, increasing hunger and combating nausea. This is also found to be an effective energy booster for the patients having fatigue.
Related products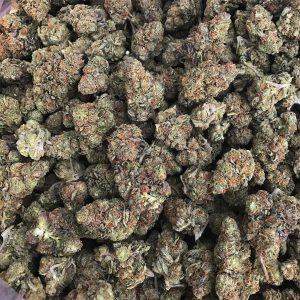 Buy Girl Scout Cookies
Buy Girl Scout Cookies
$

380.00 –

$

2,100.00
Rated 5.00 out of 5
Genetics
Breeder: CBD Crew. Genetics: Girl Scout Cookies x CBD.
May Relieve  ADD/ADHD, Anxiety,Bipolar Disorder,Chronic Pain,Depression, Insomnia,Loss of Appetite,Migraines, Nausea , Stress.
Flavors  Cherry, Lemon, Mint,Sweet, Woody.
Aromas
Earthy, Nutty, Pungent,Spicy, Sweet, Vanilla